Specification:
1. Mesh Count: 250mesh/inch
2. Wire Diameter: 0.040mm
3. Width Opening: 0.0616mm
4. Open Area: 36.7%
5. Weight: 0.224kgs/m2
6. Weave of type: Plain Weave
7. Roll of Width: 3′, 3.3′,4′,5′
8. Roll of Width: 100ft or 200ft
9. Waterproof paper with plastic cloth,then wooden case. See below photos of monel wire cloth.
Nickel – Copper alloy, containing minimum 63% Nickel and 28% Copper
Corrosion resistance and strength
Marine and chemical environments
Corrosion resistance without precious metals
Hebei General can produce monel 400 wire mesh from 1mesh to 400mesh. Monel Woven Wire Mesh is usually used in marine applications such as piping systems and strainer baskets as well as in chemical processing equipment and heat exchangers. Please see below a typical chemical analysis of Monel Woven Wire Mesh.
Monel k500 Chemical Composition %
Alloy

C

Mn

Si

S

Ni

Cu

Ti

Al

Fe

Monel 500

≤0.25

≤1.50

≤0.50

≤0.010

≥63

27.0
~33.0

0.35
~0.85

2.30
~3.15

≤2.0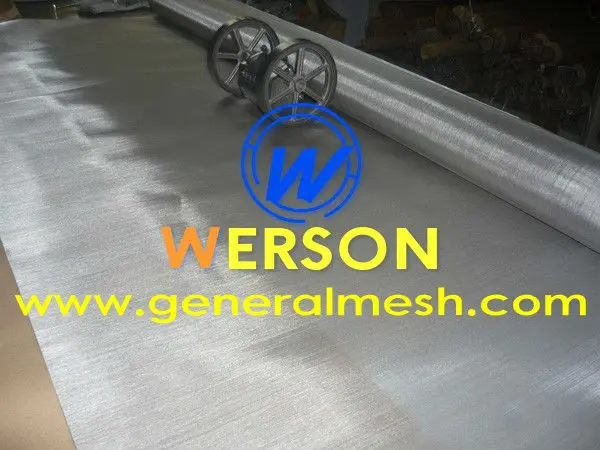 Because of its good corrosion resistance, monel k500 is commonly used in chemical plant equipment, marine fixtures, pumps, valves and piping systems for sea water application.
Characteristics:
High tensile strength Nickel/Copper alloy highly resistant to atmospheric corrosion, salt water and a variety of acid and alkaline solutions. Used in marine engineering, chemical and hydrocarbon processing equipment, valves, pumps and heat exchangers.
Applications:
1. Sour-gas service applications
2. Oil and gas production safety lifts and valves
3. Oil well industry
4. Doctor blades and scrapers
5. Chains, cables, springs, valve trim, fasteners for marine service
6. Pump shafts and impellers in marine service.
http://www.generalmesh.com www.generalmesh.com/blog/
MP:86-137-2282-3064| Skype:jennis01 | Wechat: 13722823064
Tel: +86-318-855784 | Fax: +86-318-7757320
Whatsapp: +8613722823064 |Viber : +8613722823064
E-mail: sales@geneneralmesh.com